A strange noise in the night!
on
April 18, 2013
at
11:22 am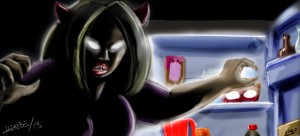 In the middle of the night, you hear a strange noise downstairs. There's an intruder in the kitchen and she's hungry!! Just back up slowly and say good bye to your ice cream and you'll be safe!
A little speed painting test.